Professional Service Bureau
Customizing Solutions to Align with Your AR Strategy
Professional Service Bureau is focused on your organization, your challenges, and aligning our Extended Business Office and 3rd Party Collection solutions to your needs.
Since 1972, Professional Service Bureau continues to deliver exceptional portfolio management services. Our team's commitment to innovation and client satisfaction make Professional Service Bureau a world-class leader in Revenue Cycle solutions.
Our Solutions
Self Pay, a service of our MARS Division
---
Our MARS division delivers as an Extended Business Office solution that delivers Integrated Self-Pay services, Partnership Engagement, and Quality Assurance Program.
Collections, a service of our PSB Division
---
Performance is not simply recovering outstanding A/R. Performance is Quality Service, Compassionate Consumer Engagement, Compliant Processes, and Effective A/R recovery. Our PSB Division specializes in Healthcare Collections, Student Loans Collection, Utility Collections, and Financial Services Collections.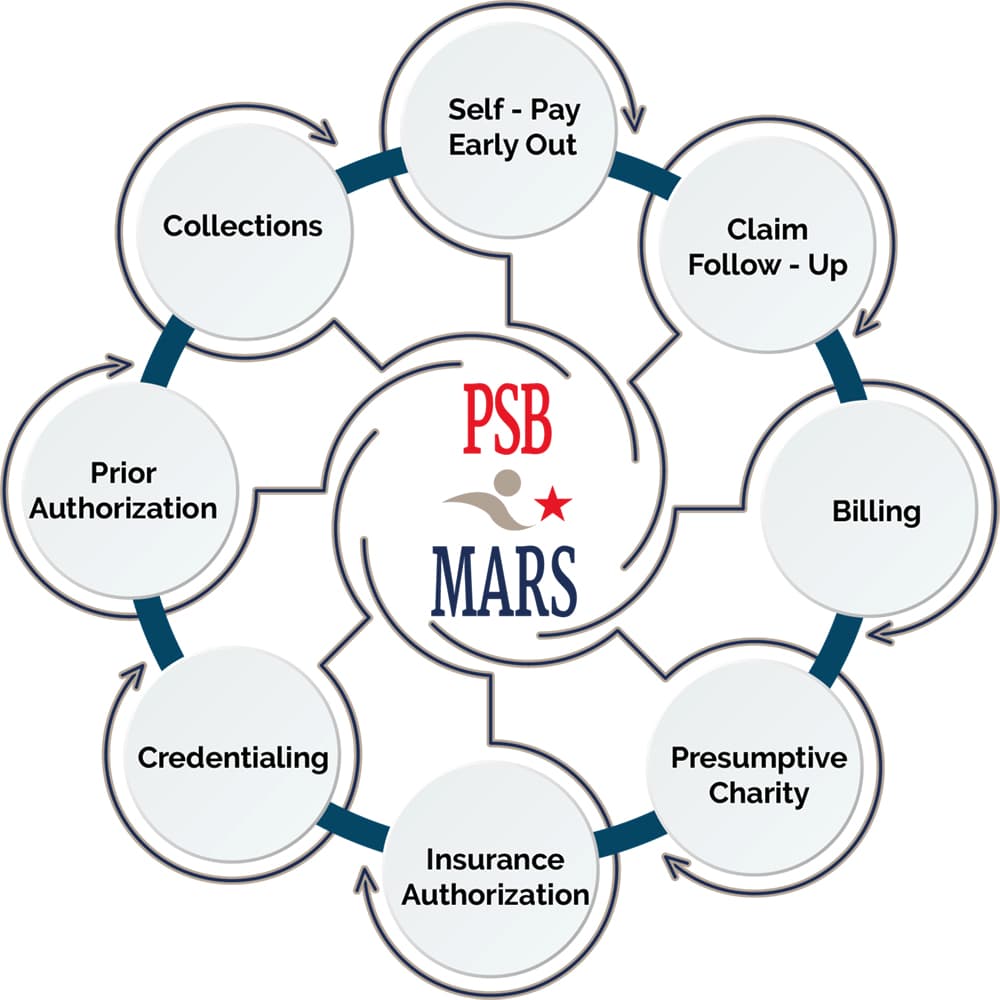 System Conversion, a service of our PSB Division
---
When your organization is looking for help solving the challenge of a System Conversion or Legacy Cleanup, we have the experience in providing the partnership needed for working within your EMR, working with and housing your existing database as a data export partner, and working parallel with your existing EMR.
Revenue Cycle Management, a service of our MARS Division
---
Our MARS Division of billing experts deliver comprehensive, payer specific, or project based claim resolution on-time, and on budget. Cloud based/integrated in your EMR/HMS/Clearinghouse.
Our trusted partners include:
Let Us Help You!
PSB provides Extended Business Office & 3rd Party Collection services. We have and continue to serve the Healthcare, Student Loan, and Utility markets for over 48 years. A next level partnership experience is something we are proud of and strive every day to provide. We have multiple partnerships over a decade long, and our longest partner has been with us for over 40 years!
Affiliations
Count on Our Expertise & Experience
Whether it is Medical Collections, Student Loans Collection, Utilities Collection, or any Debt Collection Agency needs, we take care of your customers, because they become ours as well. Our efforts utilize empathy, transparency, and trust with you the partner, and each every account which leads to better results and a better experience for everyone.